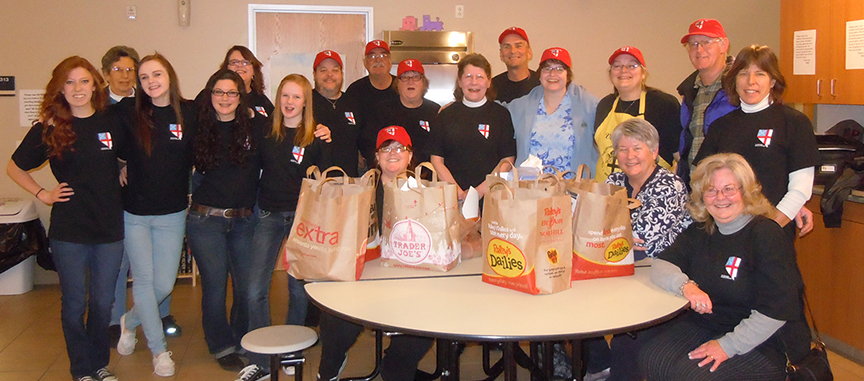 Community service is an important part of our mission as Christians following Jesus.
In addition to the many outreach opportunities listed below, we encourage our members to participate as individuals and families in service to the South Reno community and to the wider world.
Manor Care Eucharistic Visitors
Providing bi-weekly prayer and Communion services for shut-ins.
Contact Judy Eisele, Coordinator, 345-0142
Partners in Education
Partnering with Double Diamond Elementary School to provide community support to its students and staff.
Contact Sally Dickinson 
Baby Bundles
Partnering with Trinity Episcopal Church to provide newborn items to those at local hospitals who are in need.
Contact Ann Crase or LInda Stetzell
Quilt Group
Providing lap quilts to shut-ins and "comfort" blankets to young patients at Renown and Renown South Emergency Rooms.
Contact Amy Heintz
Senior Bundles
Providing clothing, personal care items, and visits to needy seniors at a local nursing home.
Contact Amy Heintz
St. Nick's Helpers
Providing holiday assistance to low-income families.
Contact Sally Dickinson
"By humble and faithful prayer, the soul acquires, with time and perseverance, every virtue."
St. Catherine of Siena
SERVICE TIMES
10:00 - The Holy Eucharist, Rite Two
Every Sunday
10:30 am - The Holy Eucharist, Rite Two
Every Thursday
PHYSICAL ADDRESS
10435 Double R Boulevard
Reno, NV 89521
MAILING ADDRESS
P.O. Box 17831
Reno, NV 89511